Misty Anderson from Foot Fetish Daily
Foot Fetish Daily contains explicit sexual and erotic material intended only for adults.
By Entering This Site You Agree:
I am an adult, at least 21 years old.
I do not live in an area where adult-oriented material is prohibited by law.
I will not redistribute this material, nor permit minors or anyone offended by this material to view it.
I accept that this material contains unusual sexual practices.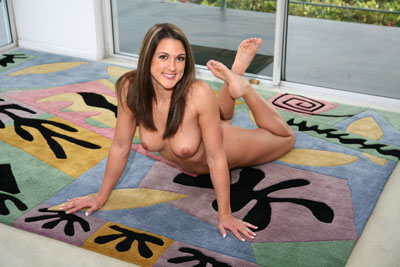 Meet Misty Anderson
Man oh man, if you like fitness models, you're gonna love Misty Anderson. She's an amateur performer from the Chicago area with her own web site (mistyanderson.com). She's only done a couple scenes so far. Luckily, thanks to some "inside connections," I got her to agree to shoot for us. Misty is 5'9" with amazingly firm c-cup breasts, yet she wears a relatively petite size 7 shoe. She's worked for years as a personal trainer. Maria Menendez is the interviewer here. She's infatuated with Misty's body. Who can blame her? You know, when I interview girls and fawn over their beauty, I end up sounding like a creep. But when Maria does the same thing, it's just plain hot. By the way, can you guess what percent body fat Misty's body is? You'll find out in this movie!
Misty Anderson Pantyhose
Misty is so shy and innocent, it's hard to believe she's in porn. I guess you could say she's the quintessential porn-star-next-door! I hope you enjoy her seeing her long, lean legs squeezed into a pair of black pantyhose. With her fitness background, you can be sure those gams would do some serious damage if they were wrapped around you. By the way, that's Maria Menendez's head you see ducking out of frame, the pervert.
Misty Anderson Soles on Glass
Misty admitted that her feet sweat a lot when she exercises. And when she's nervous! You can tell they're a little moist in this movie. You're gonna love Misty's puffy balls. That's right, I just coined a new foot fetish term, you can note it in Wikipedia. "Puffy balls" are when the ball of the foot have a lot of meat on them. This is attractive for a number of reasons. Looks-wise, it accentuates the arch and the base of the toes. They also feel hot to massage and squeeze, in the same way that fondling a nice, meaty ass is sexy. Enjoy seeing Misty's puffy balls squish down against the glass in this movie.
Misty Anderson Foot Voyeur
Because Misty is so shy and new to porn, Maria Menendez was the designated lesbian to help break her in. Simply put, Maria is a bigger foot creep and then me, you or any of us. She LOVES feet and can't wait to molest Misty's. By the way, this is the first girl/girl scene I've shot for Foot Fetish Daily. Let me know if you like it. What kind of mix should I aim for between boy/girl and girl/girl? Personally, I love seeing two hot girls' feet intertwined as in this movie, but I want to know what you think.
Misty Anderson Hardcore
Finally, the main event! Maria has been dying to go down on Misty, and now she gets her chance. Plus she gets to gag herself on Misty's sweet feet. And I do mean "gag" literally! Maria has a ferocious orgasm by grinding her pussy against Misty's sweet face. Then it's time for Maria to make Misty cum, whether she likes it or not. Guess what she uses to help achieve this...?